Dermaplaning is a popular cosmetic procedure that removes the top layers of the skin with a special blade that skims the skin's surface removing dead dull skin cells and unwanted hair. Dermaplaning is a safe and effective way to remove unwanted hair including "peach fuzz," improve acne scars, reduce appearance of fine lines and wrinkles, and exfoliate the skin. Dermaplaning can be performed alone or along with procedures including chemical peels and microneedling.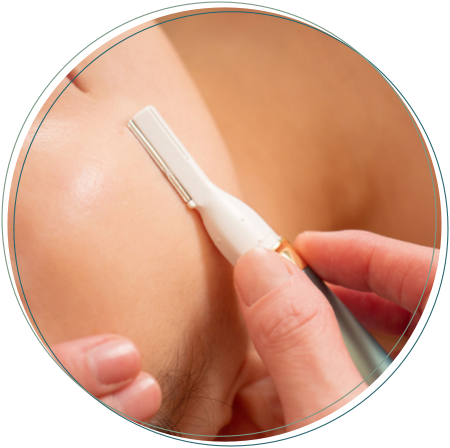 What Does Dermaplaning Feel Like During and After the Treatment?​
Dermaplaning is a painless procedure that feels like a close shave. Occasionally patients describe a tingling sensation. There may be redness and swelling immediately following the treatment that resolve within a few hours.
What are the risks of Dermaplaning?
Very rarely infections can occur after Dermaplaning. This is more common when Dermaplaning is performed at home. There may be temporary discoloration in the treated area, particularly if sun exposure occurs after treatment.
The following chemical peel treatments are available:

Glycolic Acid: Synthesized from sugar can, this is a light chemical peel that has almost no downtime and is especially good for sensitive and acne-prone skin.
Melanage peel: Designed to brighten skin tone, the melanage peel uses retinoids at prescription strength to accelerate cellular turnover. The treatment starts in the office, but you take it home and continue from there with our instructions. It helps even skin tones and is a medium-depth treatment.
VI Peel: Suitable for all skin types, this peel uses a combination of salicylic acid, retinoic acid, trichloroacetic acid, vitamin C, and phenol to enhance skin texture, clarity, and tone for great anti-aging advantages.
VI Precision Plus: A boosted acids and nutrients formula minimizes the synthesis of melanin in the skin, stimulates quick cellular regeneration, and is very helpful for people who want to control melasma and pigmentation issues.
Are there any restrictions or limitations before and/or after Dermaplaning?
It is important to avoid sun exposure before and after your Dermaplaning treatment as your skin will be more sensitive to the sun. Patients with active acne break outs or other skin infections may need to reschedule Dermaplaning until those issues have resolved. It is important to review the Dermaplaning procedure with our licensed aesthetician at Georgia Skin Specialists to achieve the best Dermaplaning results.
How Do I Schedule Dermaplaning?
Our licensed aesthetician Anna Persson is available to discuss our Dermaplaning procedure at Georgia Skin Specialists.