Moxi Laser Resurfacing Treatment
Moxi™ laser resurfacing treatments target three of the most common skin concerns: pigmentation, texture and pore size. A true laser, Moxi™ promotes collagen and elastin production. Post-Moxi™, patients enjoy glowing, smooth skin. The treatment can be customized for younger patients interested in prejuvenation and prevention, as well as patients with significant sun damage in seeking more aggressive corrections. Moxi™ also works well for active individuals with a busy lifestyle, and is safe to perform on all skin types all year long. Downtime from Moxi™ is minimal and manageable with gentle aftercare and following the guidance of our aesthetician.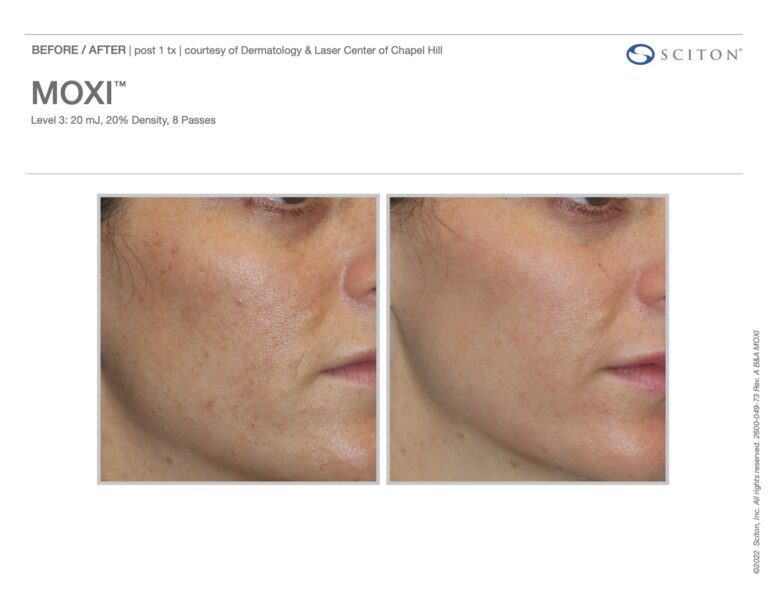 How Does Moxi Laser Resurfacing Work?
Moxi™ is a non-ablative fractional laser that delivers heat into the skin. Texture and skin tone are improved without physical injury to the skin's surface. Moxi™ laser resurfacing is a gentle treatment that doesn't require the extensive healing or downtime associated with more aggressive laser treatments.
The laser is used to heat up targeted skin tissue to stimulate the body's production of collagen. The new collagen will eventually fill in skin imperfections such as fine lines, wrinkles, and mild scarring. Moxi™ laser resurfacing can also correct uneven pigmentation and dark spots, and can be used to treat melasma. Patients generally consider the procedure to be painless, with just a slight tingling feeling. An anesthetic cream can be used but is not usually needed.
Who Is An Ideal Candidate?
Moxi™ is safe for men and women of all ages and skin types. Moxi™ treatments can be used on the face, neck, chest, hands, arms, and legs. It's ideal for those who want to prevent the appearance of aging skin or those who have early signs of aging and sun damage. A typical Moxi™ treatment takes less than 15 minutes, making it easy to fit into busy schedules.
What Can I Expect Post-Treatment?
The treated area may be warm for several hours after treatment. Some redness should be expected. The skin will feel dry and may have a sandpaper texture before flaking off or peeling after several days. It's important to keep the skin well moisturized to support the healing process. Patients must avoid sun exposure to their new skin. A sunscreen with SPF 30 or higher should be worn for UVA and UVB protection while healing takes place.
How Many Treatments Will I Need?​
This will depend on your treatment goals and level of damage. Most patients receive 3-4 corrective treatments, then often will sign up for regular maintenance treatments throughout the year.
Initial improvement will be seen in about a week. Full results will be seen in approximately three months, as new collagen improves skin tone and texture. For best results, several treatments may be recommended 4-6 weeks apart.
Schedule a Moxi™ Laser Resurfacing Treatment
One of our expert, licensed aestheticians will help you every step of the way during your skincare journey. Schedule an appointment by contacting us for more information on Moxi laser resurfacing, or the many other treatment options we provide.