Rejuvenate and Revitalize Your Skin
If you're looking for a non-surgical option to enhance the overall appearance of your skin, Morpheus 8 is the ideal solution. Experience the transformative effects of this state-of-the-art treatment and say goodbye to sagging skin, fine lines and wrinkles, acne scars, and uneven texture, and say hello to a more youthful, radiant complexion.
Morpheus 8 is an innovative, non-surgical treatment that harnesses the power of radiofrequency (RF) energy and microneedling to address a wide range of skin concerns. This advanced procedure is designed to stimulate collagen and elastin production, tighten sagging skin, and improve overall skin texture and tone.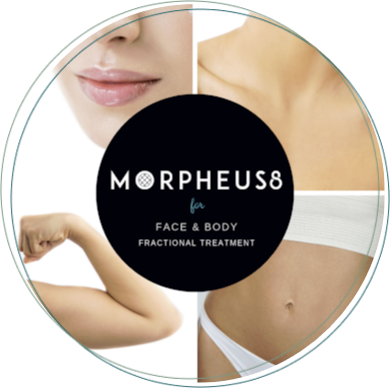 How Does Morpheus 8 Work?
The Morpheus 8 treatment utilizes a device that combines RF energy with tiny microneedles. These microneedles penetrate the skin at various depths, delivering controlled thermal energy to the underlying layers. The RF energy heats the deeper tissues, stimulating collagen and elastin production, while the microneedles trigger the body's natural healing response.
This dual-action process helps to remodel and recontour the skin, resulting in a firmer, smoother, and more youthful appearance. The precise depth control allows for customizable treatments, tailored to address your specific concerns, whether it's fine lines and wrinkles, acne scars, uneven skin texture, cellulite, or even stretch marks. Morpheus 8 Body is an effective nonsurgical option for body contouring, reducing stubborn fat in the bra area, abdomen, and anywhere with unwanted fat deposition.
How Quickly Will Results Be Seen?
Visible results can be seen within a few days, but the most noticeable results appear 3 months following the third treatment. The collagen and elastin production stimulated by Morpheus 8 continues for several months after the treatment, leading to gradual and long-lasting improvements in your skin's appearance.
Patients should expect some slight redness for up to 1 week depending on the specific treatment that was performed. Properly moisturizing the treatment area while steering clear of direct sunlight is important. We highly recommend incorporating the daily use of a high-quality, broad spectrum sunscreen into your skincare routine as well.
Real Life Results: Before & After Morpheus 8 Treatment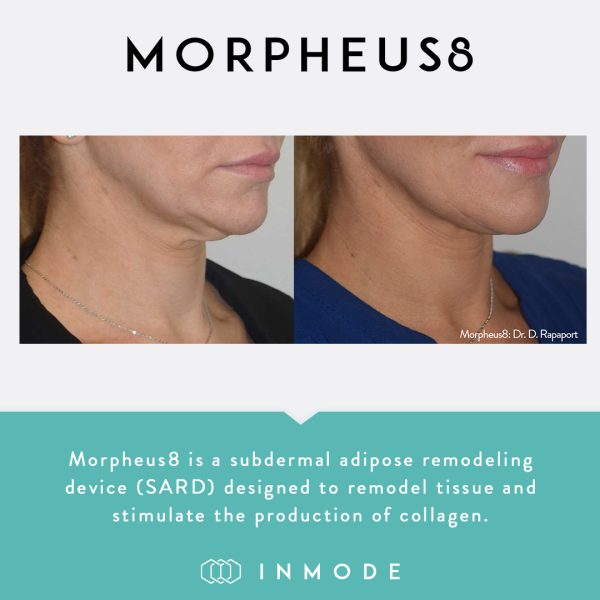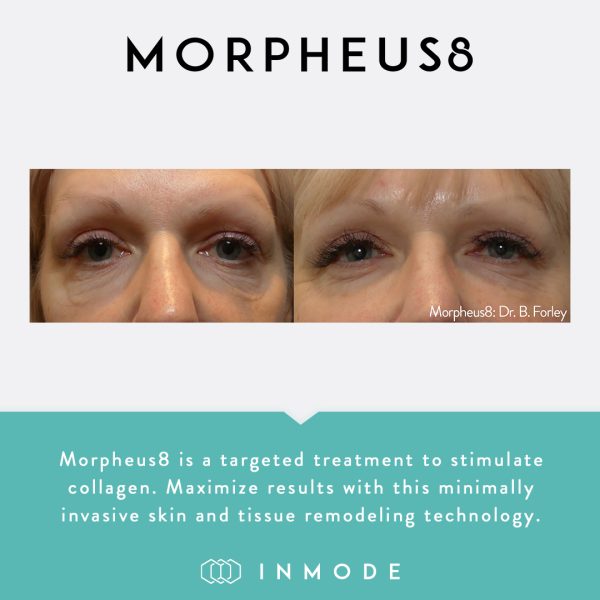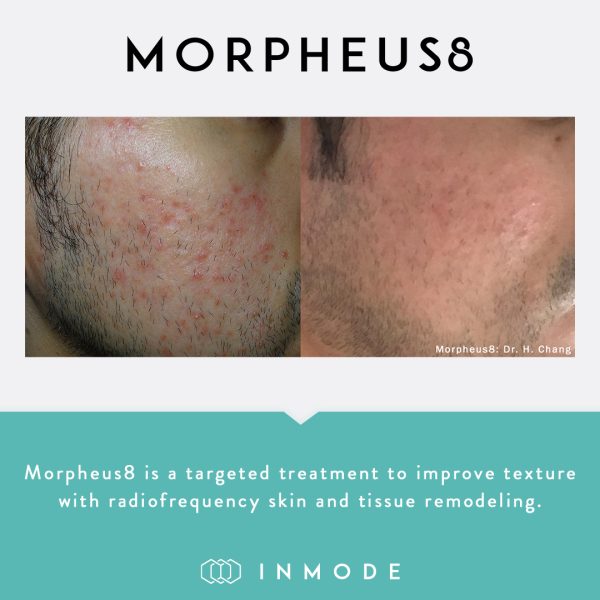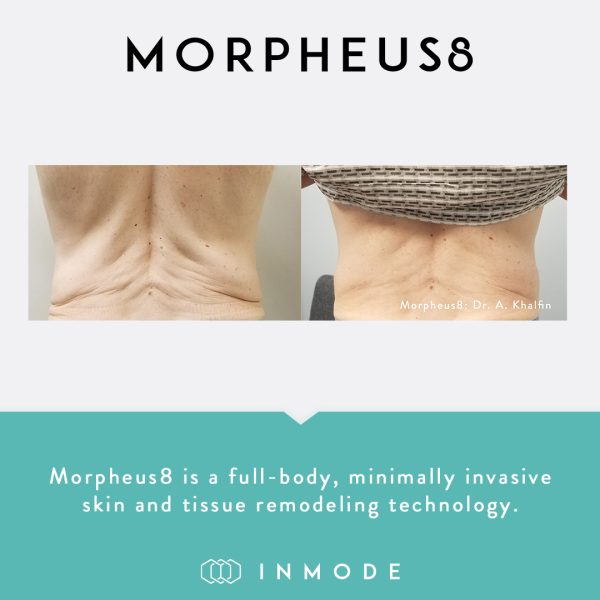 Morpheus 8 can be used on any area that can benefit from sub-dermal renewal. The most commonly treated areas include the lower face and neck. Areas of the face and body that exhibit wrinkles, loose sagging skin, discoloration, or acne scarring are suitable for treatment.
Face: Morpheus 8 can be used to address various facial concerns, including wrinkles, fine lines, acne scars, uneven skin tone, and texture irregularities. It stimulates collagen production and tightens the skin, resulting in a more youthful and rejuvenated appearance.
Neck: The neck area is prone to sagging skin and wrinkles, which can make a person look older. Morpheus 8 can tighten the skin on the neck, reducing the appearance of fine lines and enhancing the overall smoothness and firmness of the neck area.
Chest: Morpheus 8 can be utilized to improve the appearance of the chest area. It can help tighten loose skin, reduce the appearance of wrinkles and creases, and improve skin texture, allowing for a more youthful and rejuvenated chest area.
Abdomen: The abdominal area is another commonly targeted treatment area for Morpheus 8. It can be used to tighten loose skin, minimize the appearance of stretch marks, and improve the overall tone and texture of the skin, and reduce fat.
Arms: Morpheus 8 is effective in treating sagging skin on the arms, commonly known as "bat wings." It helps to tighten and firm the skin, reducing the appearance of flabbiness and improving overall skin texture.
Thighs: Morpheus 8 can also be used on the thighs to address cellulite, loose skin, and improve skin texture. It tightens and firms the skin, giving a smoother and more toned appearance to the thighs.
Hands: Hands are often a neglected area when it comes to anti-aging treatments. Morpheus 8 can improve the appearance of aging hands by reducing wrinkles, tightening loose skin, and promoting collagen production for a more youthful look.
Hyperhidrosis: Morpheus 8 is an effective hyperhidrosis treatment.  It can be used to treat the palms, soles, and underarms to reduce excessive sweating with long-lasting results.
When Can You Wear Make-Up After a Treatment?
Since patient downtime is minimal, makeup can be applied 2 days after the treatment.
How Many Treatments Are Needed?
We recommend 3 treatments spaced 4 weeks apart.

Is Morpheus 8 Safe for All Skin Types?
Yes, Morpheus 8 is safe for all skin types.  It can be used safely on skin of color. 
How Can I Prepare for My Morpheus 8 Treatment?
We recommend using medical grade skin care products before and after your Morpheus 8 treatment to reduce recovery time and to improve results. Your provider at Georgia Skin Specialists will make recommendations for a skin care regimen to set you up for Morpheus 8 success. 
If possible, avoid aspirin, alcohol, and ibuprofen for 3-5 days before the procedure to reduce bruising.
Experience the Future of Skin Rejuvenation with Morpheus 8
We're dedicated to helping you achieve your aesthetic goals and enhance your natural beauty. Our skilled and licensed aestheticians have extensive experience in performing Morpheus 8 treatments, ensuring you receive the highest quality care and outstanding results. Don't let skin concerns hold you back. Unlock the power of Morpheus 8 and embark on a journey to a more youthful, radiant, and confident you. Contact us today to schedule a consultation and learn more about this revolutionary treatment.