Botox for the forehead can remove the fine lines and wrinkles that appear naturally as part of the aging process. Excessive sun exposure, squinting, smiling and frowning can all contribute to this wrinkling effect as a person gets older. A Botox treatment in Atlanta can help smooth out or temporarily remove forehead lines and turn back the clock on a person's appearance.
Botox is a neuromodulator, which means that it interferes with the nerve signals traveling to muscles. Injecting Botox (Botulism Toxin A) into certain muscles can cause them to relax, which in turn prevents them from causing that wrinkling effect. The treatment has been approved by the FDA for the treatment of fine lines and wrinkles in the forehead.
How Does Botox Treat Forehead Wrinkles?
Botox for forehead treatments targets the muscles beneath the skin, including the glabellar lines and forehead muscles. When those muscles relax, it softens the appearance. This has a smoothing effect on the forehead that can reduce the size of wrinkles or remove their appearance entirely in some patients. The patient will appear more refreshed, more alert, and younger once the neuromodulator takes effect.
How Does the Procedure Work?
A Botox treatment is performed by a board-certified dermatologist or by one of our expert injectors. An appointment typically lasts 10 to 20 minutes, depending on how many injections are made. The Botox shots are administered in the forehead muscles and in the glabellar muscles between the eyebrows.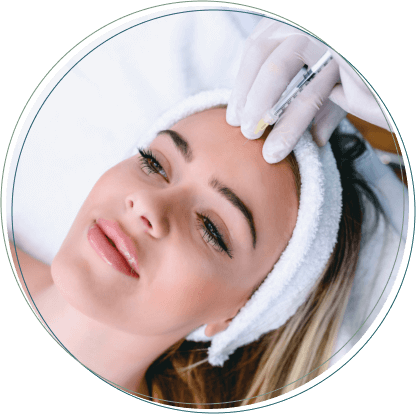 The best candidates for Botox for forehead treatments are men and women over the age of 18 who want to achieve a more youthful appearance by smoothing the horizontal forehead lines.
Possible Side Effects and Risks
Minor side effects from Botox for the forehead can include pinprick redness at the injection sites, bleeding or bruising. These symptoms resolve in a few days. Some patients can experience headaches after a Botox procedure.

Botox for forehead treatments can start to smooth wrinkles in just two days. The full effects of the treatment should be visible after two weeks. We sometimes schedule a two-week follow-up appointment in the event any areas need a touch-up.
The smoothing effect lasts an average of about three to four months in most patients. Patients should have follow-up treatments three to four times per year to maintain the effects.
Contact Us for Botox Treatment in Atlanta​
If you want a more youthful, refreshed appearance with less prominent forehead wrinkles, contact us today to schedule an appointment or click below to book online.