Microdermabrasion Treatment
Georgia Skin Specialists is pleased to provide rejuvenating microdermabrasion skin treatment options for our patients with all skin types and tones, including patients with sensitive skin. We use advanced techniques beyond just buffing away dead surface skin. Our microdermabrasion treatment is suitable and customizable for reducing acne and other scars, laxity, sun damage, and fine lines while improving skin luminosity, firmness, and smoothness.
How Does a Microdermabrasion Skin Treatment Work?
Our Microdermabrasion treatment exfoliates dead skin cells from the surface, and is done with a microdermabrasion wand and pure water that infuses a tailored mix of medical-grade skin-nourishing serums directly into the skin. Because the top layer of dead skin has been removed, your skin absorbs the nutrients at a deeper level for excellent results. The selected mix of serums is customized for you by your cosmetic aesthetician and experienced providers. They may include growth factors, moisturizers, acne-fighters, pore clarifiers, antioxidants, cellular regenerators, and other beneficial medicinal-grade elements designed to heal and restore healthy, glowing skin and correct skin problems that you want to remedy. On the other hand, our serums do not contain any potentially irritating ingredients like fragrances, parabens, or sulfates, so they are appropriate for even the most sensitive skin. The serums added to your regimen will be based on your individual needs, skin type, and goals for your microdermabrasion treatment.
What to Expect at a Microdermabrasion Treatment Appointment
At your appointment, we'll discuss the serums necessary for your treatment with you, which will be customized especially for your skin. To start the Microdermabrasion process, we will gently clean and prepare the area that will be receiving treatment. This could include the face, neck, back, and décolleté. The correct microdermabrasion tip will be selected and then used to pass over and comfortably exfoliate dead skin and dirt from your pores while the water delivers your individualized serum. There is no irritation, scratching, or damage to the skin. The process takes about half an hour.
A typical microdermabrasion skin treatment session can be done over your lunch hour or anytime it is convenient for you. Downtime is minimal. The only typical side effect is that the treated skin may be a little pink for approximately an hour after the appointment. The pink can easily be covered with mineral makeup, so if you need to return to work or your normal routine immediately after, there is practically no downtime afterward.
In addition, this treatment can be used safely with additional treatments including dermal fillers, IPL, and/or Botox. The result is visibly firmer, smoother, younger-looking skin even after the first treatment. Depending on your needs, the best long-term results come from three to four sessions about two weeks apart.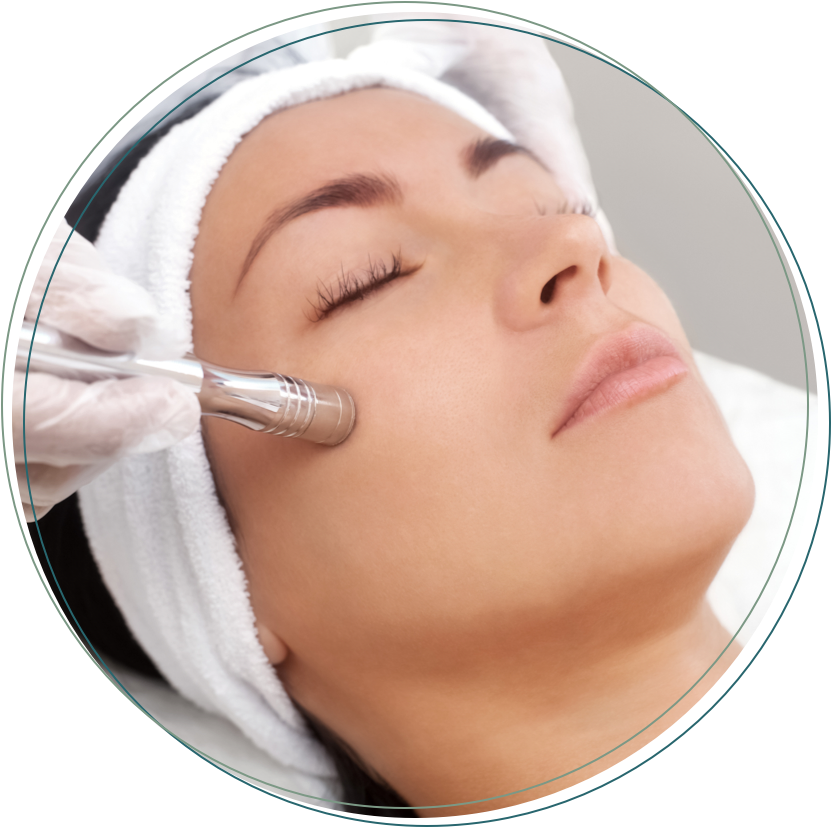 Microdermabrasion Skin Treatment Benefits
Microdermabrasion gives new life to dull, rough, scarred, sun-damaged skin. It is great for minimizing fine lines, acne scars, hyperpigmentation, laxity, and large pores. It stimulates circulation, nourishes the skin deeply, and kickstarts collagen and elastin production, all of which translates to firmer, smoother, more lustrous skin.
While microdermabrasion treatment is suitable for most patients, it may not be appropriate for patients with active cold sores, sunburns, eczema, rosacea, or a compromised immune system. It is important to discuss these things with your provider. Also, let us know if you have dermal fillers before the treatment.
Schedule an Appointment with Georgia Skin Specialists
In addition to microdermabrasion, we provide a wide range of cosmetic and medical skin care procedures that can restore, smooth, and help your skin feel and look fresher and clearer. Please reach out to us by calling (404) 352-1730 to discuss your needs with our dedicated and expert team. We look forward to seeing you and helping you look and feel fantastic in your skin.