Laser Treatment for Skin Resurfacing
Georgia Skin Specialists is pleased to offer the advanced technology of CUTERA laser treatments to address multiple causes of skin discoloration. The goal is to help our patients attain clearer, fresher, tighter, younger looking skin while solving difficult dermatological issues. Using these laser technologies, we have been able to help patients to reduce redness from rosacea, acne scars, unsightly blood vessels, solar lentigos, and extensive sun damage. The Cutera laser has evened skin tones and erased years of sun damage for many of our patients. To achieve these results, we use the Excel® V laser from Cutera. It provides two top-tier, extremely-precise laser wavelengths (at 532nm and 1064nm), enabling us to revitalize the skin visibly and safely.
What is Laser Aesthetics Technology?
Laser aesthetics technology is the use of certain therapeutic light wavelengths to stimulate deep, cellular changes in the skin. Some of these changes include removing damaged layers of skin, stimulating the production of collagen and elastin deep within the skin, and enhancing the skin's ability to retain healthy moisture levels. The Cutera excel® V laser also helps treat and lessen the appearance of rosacea, dilated blood vessels, sun damage, and lentigos.
The laser treatment we use in our office works quickly, with minimal downtime, to visibly improve the texture, luminosity, tone and tightness of the skin on the face, hands, neck, jawline, and chin. The wavelength of laser treatment chosen will depend upon which area of the body is to be treated and the specific cosmetic goals you have in mind, such as skin resurfacing.
What Conditions Do Cutera Laser Treatments Treat?
The Cutera excel® V laser is especially designed to help reduce the appearance of conditions such as rosacea, venous malformations, inflammatory acne, redness, abnormal veins in the face and legs, periorbital veins, port wine stains, angiomas, poikiloderma, bruising, age spots, sun damage, wrinkles, benign pigmented lesions and scars.The laser is highly targeted and extremely precise, so only the specific area to be treated will be affected by the treatment.
How Do Laser Treatments Work in Cosmetic Dermatology
Our CUTERA laser treatments provide very advanced technology in the use of light to treat skin conditions. Various laser and infrared wavelengths trigger cellular reactions deep within the skin that, over the course of the correct number of treatments, can significantly enhance and improve skin tone, texture, and tightness, reducing the appearance of venous abnormalities and redness by stimulating collagen production.
For example, in the case of abnormal veins, the Cutera excel® V laser delivers intense laser pulse energy that coagulates the blood inside, destroying the vessels. The body then absorbs these vessels and redirects blood flow to deeper veins that are not visible on the surface of the skin.
What to Expect with Laser Therapy
Our Cutera laser can treat spots as small as 2 millimeters and up to 12 millimeters on any part of the body or face. Treatment sessions, tailored to your specific needs, usually last only about 15 to 20 minutes. Most patients find that they can get back to work or regular activity shortly after their appointment. Often, in order for the best results, multiple laser therapy sessions will be needed, depending on the condition being treated. For example, vascular lesions or telangiectasia are best treated in a few sessions spaced over four to six weeks. Brown spot removal involves an initial darkening of the spot, which will then slough off of the surface of the skin within about three days to a week. The time and number of sessions needed depends on your condition and goals, but the results are remarkable, and patients are thrilled. Results can last anywhere from one to three years before any followup treatments are needed.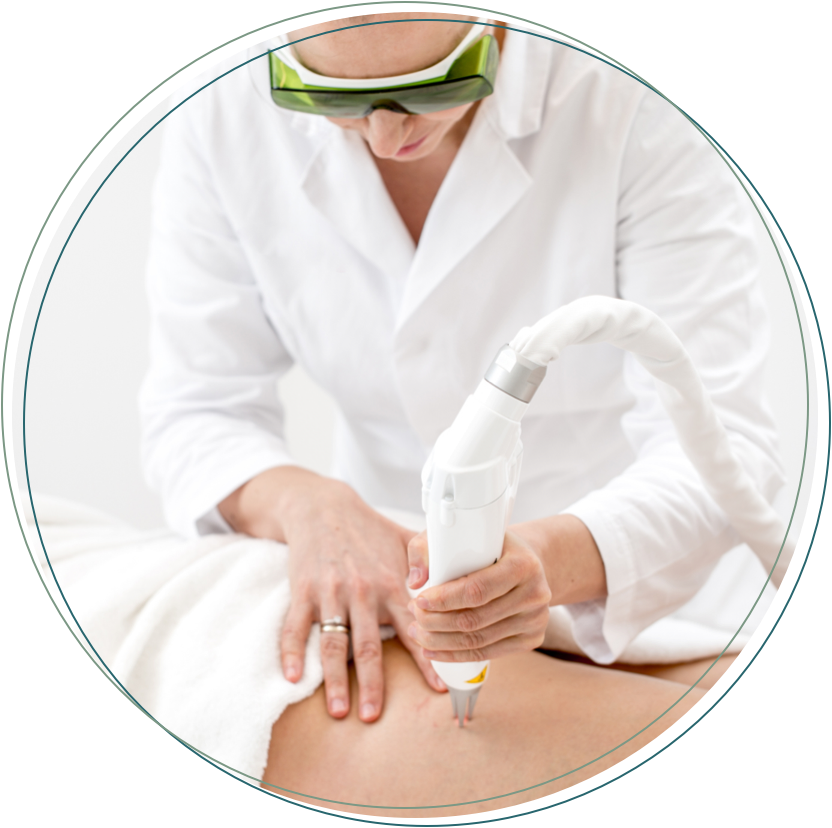 Ideal Candidates for Laser Skin Resurfacing
Are There Any Side Effects with Laser Skin Treatments?
CUTERA skin resurfacing laser technology is appropriate for most patients. It is important to discuss your needs with our dermatologists so that we can help you achieve the results you desire with the least downtime and most positive results.
Depending on the specific laser treatment involved, there may be some temporary redness or swelling that looks like a sunburn in the affected area for a short time. Typically, this will resolve within a few hours or days. It's important to schedule your laser treatments well ahead of any social engagements you want to attend. Some of the treatments may produce a bit of a "pinchy" feeling or some heat in the skin. We will provide all the aftercare you need to have the shortest downtime and best results possible.
Schedule a Laser Skin Treatment with One of Our Board-Certified Dermatologists
Contact our office to schedule an appointment and find out if laser skin resurfacing with Cutera is right for you, or click below to book online today.